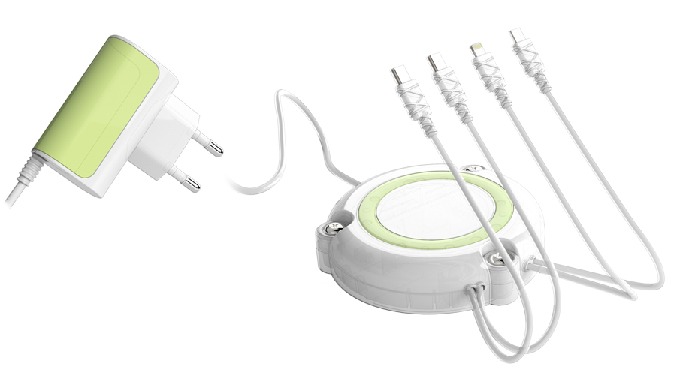 1. Charge Max. 4 mobile phones (or smart device) at the same time
2. 4 line charge (5pin, 8pin, C type x2)
3. Antitheft function from strong adhesive power on bottom sticker
4. All kind of mobile phone & smart device charge available
5. Lumious non-skid ring to keep safe and find in the dark
6. Easy replacement of pin,...
Description of the Product
1. Charge Max. 4 mobile phones (or smart device) at the same time
2. 4 line charge (5pin, 8pin, C type x2)
3. Antitheft function from strong adhesive power on bottom sticker
4. All kind of mobile phone & smart device charge available
5. Lumious non-skid ring to keep safe and find in the dark
6. Easy replacement of pin, when it need replacement
7. Variety use for hotel, resort, cafe, office, home, pc rooms etc
8. CE & KC certificate approved
Price of the Product
Price not indicated
Technical Details
Model no: TC-49
Input: 100-240V0.5A
Output: Cable: 5V/2.4A
Pin type: Micro 5pin, 8pin, C-type
Output Type: Integral
Material: PC/ABS & metal material
Origin: Made in Korea