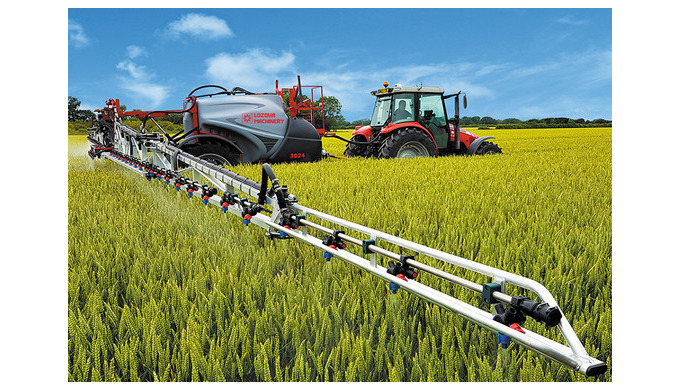 Advantages

- Aluminium bar

Specially designed by Landquip aluminum bar, 24 meters long, 2/3 lighter than steel equivalent, which contributes to a much better balancing of the machine.

Rod is installed on high-lift system in the form of prallelogram. Resistant to rust/acid/chemical/liqui
Description of the Product
Advantages

- Aluminium bar

Specially designed by Landquip aluminum bar, 24 meters long, 2/3 lighter than steel equivalent, which contributes to a much better balancing of the machine.

Rod is installed on high-lift system in the form of prallelogram. Resistant to rust/acid/chemical/liquid fertilizers..

- Innovative tank design

Ultra-smooth tank for 3000 liters, easily washable, has an anti-surge design and is equipped with a highly efficient mixing system in the tank. It is equipped with efficient drain trays, a high-capacity pump and a large-capacity filtration system.

- Multifunctional nozzles

Multi-head nozzle bodies rotating 360 degrees have up to 5 high-pressure ceramic tips. An Umbrella fertilizer sprayer may optionally be installed.

- Effective flushing

Efficient flushing and easy maintenance are achieved by a machine design that uses a minimum number of piping/hoses.

- Easy maneuvering

The chassis design, combined with the shape of the tank and the weight-reducing bar, allows SPRAYMARC to better distribute the weight when spraying in the field from full to empty tank.

SPRAYMARC sprayer has a compact transport width of 2.5 meters.

- Transportation stability

Stability in transportation with folded rods is not equal due to the low center of gravity of the machine.
Gauge from 1500 to 2200 mm. Road gap 700 mm.

- Automatic control system for sprayers, with GPS navigator

The computer BRAVO-400 the Italian company ARAG, a leading manufacturer of automated control systems compatible with sprayers.
Equipped with a screen with high resolution, diagonal 5.7 inches (TFT-matrix).

Navigator displays vectors, distances, and rows to return to interrupt locations.

The computer saves the drug due to a uniform pouring rate over the entire area and a constant concentration of the working solution, which increases the productivity and working time of the sprayer.
Price of the Product
Price not indicated
Category of the Product
I want to get more details about the product
Company catalogues - LOZOVA MACHINERY Ltd