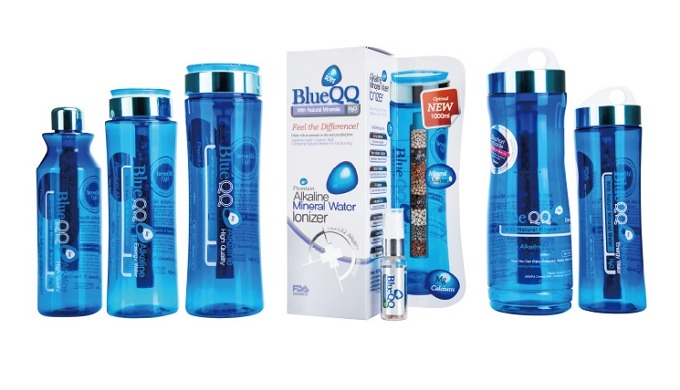 Mineral / PH Balance / Antimicrobal / Lopolytic / Bioactive / Portability

- BlueQQ's natural minerals and its nutrient benefits purify the water with its p.h balancing property as well as minerals including calcium, magnesium and zinc ion.
- There are vaild research tests results from KEWWI, Japan FDA and the U.S
Description of the Product
Mineral / PH Balance / Antimicrobal / Lopolytic / Bioactive / Portability

- BlueQQ's natural minerals and its nutrient benefits purify the water with its p.h balancing property as well as minerals including calcium, magnesium and zinc ion.
- There are vaild research tests results from KEWWI, Japan FDA and the U.S FDA.
- With its distinctive smooth and silky texture of the water, it also prevents bacteria with its disonfecting properties.
- It's unique cartridge system is activated by a F.I.R far infrared raysm anion, ORP 199ml (Active Oxygen), and Sophoricoside (Body fat reducing effect)
- Maintain an optical ph balance (Alkaline) with a variety of minerals (Ca, K, Mg, Zn, etc.)
- Filter Cartridge can be used up to 6 to 8 month.
Price of the Product
Price not indicated
Ask for a quote
Company catalogues - BlueQQ CO.

Product Information (English)
23 pages

leaflet (English)
1 pages

Banner (Chinese ver.) (English)
1 pages