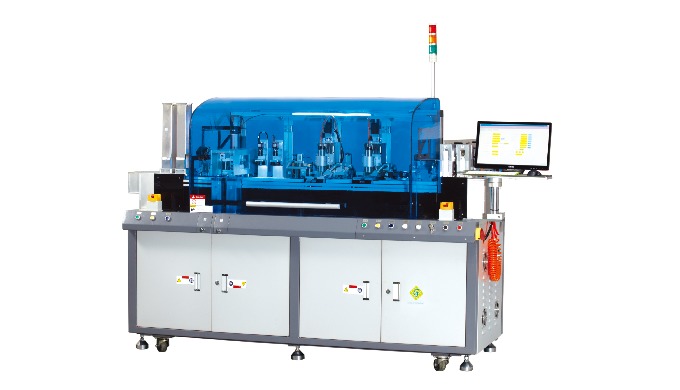 Feature: The full-auto antenna embedding machine uses the USA ultrasonic embedding technology to embedding the wire. Just need one person to operate, which save the labor and reduce costs, at the same time, ensure the quality of the products. In the machine structure, the machine is easy to operate and maintain, which enhances the service life of m
Description of the Product
Feature: The full-auto antenna embedding machine uses the USA ultrasonic embedding technology to embedding the wire. Just need one person to operate, which save the labor and reduce costs, at the same time, ensure the quality of the products. In the machine structure, the machine is easy to operate and maintain, which enhances the service life of machine and the productivity. The appearance and style of the machine is concise and easy, rationalization and hommization, and the user-friendly operator interface protect the safety of operators. We offer the perfect after-sale service and technical follow-up, and provide paid lifelong maintenance.
Product Details
Output: 4500 CPH
Main function:

1. Advanced ultrasonic wire embedding technology from USA.
2. With two worktables, improve the productivity .
3. Machine runs stable; Antennas are well distributed with uniform spacing.
4. Designed for wire layer of different layouts and various shapes of antenna.
5. Use the Delta PLC and the touch screen, stable and visualized.
6. PC control with CAD software for easy adjustment.various kinds of shapes drawings can be set up easily.
7. Materials are loaded using dowel pin and vacuum absorbed, easy to adjust.
8. Servo system ensures accurate location.
9. Use the PC+ Motion control card+ servo system to control, and the unique mechanical design to ensure the machine runs steady.
10. The operation is easily and the function is strong.
11. Materials loading using dowel pin and vacuum absorbed, easy to adjust.


Product ready for delivery
Price and payment
Credit card
Bank transfer
Characteristics of the Product
Type

Smartcard Machine

Model

JGCFT6000+

Dimension

2000mm*1800mm*100mm

Brand

JG

Certification

CE

Origin

China