High Speed Quarter SimCard Milling And Module Embedding Combi Machine
- Product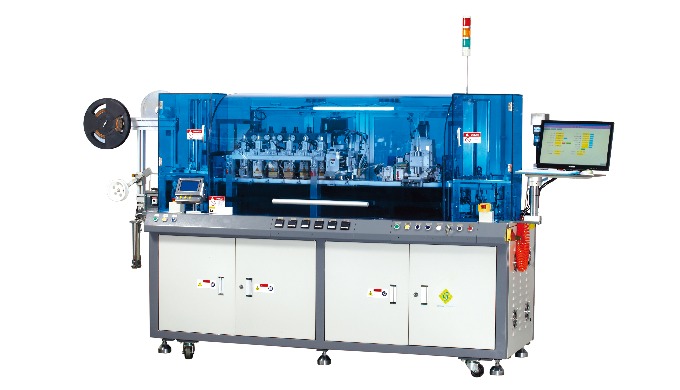 Machine Brief Introduction Machine JGCFT-8000+ is specifically designed and manufactured for producing half card and quarter card. * Machine JGCFT-8000+ is a milling and embedding combi machine, it has the function of online glue lamination. * Machine JGCFT-8000+ is able to produce half card, quarter card and ID-1 card with single module. All proce
Description of the Product
Machine Brief Introduction Machine JGCFT-8000+ is specifically designed and manufactured for producing half card and quarter card. * Machine JGCFT-8000+ is a milling and embedding combi machine, it has the function of online glue lamination. * Machine JGCFT-8000+ is able to produce half card, quarter card and ID-1 card with single module. All process done in one run. * Target machine speed of JGCFT-8000+ is over 8000 cards per hour for quarter card and half card
JGCFT-8000+ Quarter SimCard Milling And Module Embedding Combi Machine

Available for:
- ISO ID-1 Card Milling and Embedding
- Half Card Milling and Embedding (2 in 1)
- Quarter Card Milling and Embedding (4 in 1)

The machine JGCFT-8000+ has the function as follows:
- Double cards detection
- Color sensor for card orientation check
- Plastic Card Milling
- Cavity Depth Measurement
- High Speed rotating brush for cleaning
- Online Glue Tape punching and automatic lamination
- Module punching and embedding
- Multiple press group for module reinforcing
- Module Height Measurement after Embedding
- ATR Testing
-Vision Inspection

Machine Throughput:
- For ISO Single SIM 5000-5500 cards per hour
- For Half card Eco-SIM 8000-8500 SIM per hour
- For quarter card 8000-8500 SIM per hour

Card Input Magazines
There are two magazines installed on the machine JGCFT-8000+ for card input.
Whenever one of the input magazines is empty, the machine will switch to another magazine automatically.
Color Sensor
The color sensor is installed on the machine, this is for card orientation check. After the color sensor being properly set, the machine will automatically stop when the different color of the card is detected.
Double Card Detection
A double card detection function is equipped on the machine to prevent two or more cards is loaded. This is the standard function to prevent loading 2 cards onto the transfer belt.
Card Milling Platform
Two high speed milling stations for accurate, clean, cavities. Mitsubishi servo control for peak performance, milling accuracy and yield.
Milling trajectory and the program can be online modified through the sporting board (CNC) and PLC software
The imported milling spindle motor is installed on the machine with the air cooling system, the rotating speed could be reached up to 40000 circles per minute.
Milling Interface:
PC is integrated for the card milling interface.
Whenever the user wants to mill or engrave any specific kind of shape onto plastic cards, it very easy to modify the milling trajectory by Auto CAD.
If the user wants to do milling of 4FF, they are able to online or offline create a new milling trajectory by CAD and load the file into PC by USB key.
Vacuum Cleaning

Powerful cleaning station with a vacuum and rotating brushes ensure all cavities are free from milling debris.

Cavity Depth Measurement
The machine has the function of an online cavity measurement, the high precision gauges from Keyence accurately measure cavity milling depth, any card with faulty cavity depth would be rejected automatically.
Online Glue Lamination

Online glue lamination is installed on the machine . This function could be enabled or disabled simply by pressing the button on the Human Machine Interface (HMI).
The glue lamination system is positioning by the servo gear to ensure the laminating at very high accuracy. The flatness of the laminating can be controlled within 0.01 degrees so that the hot-melt adhesive and the chip are perfectly bonded without air bubbles.
Along with the machine JGCFT-8000+, you will receive 1 set adhesive tape punching tool and 1 pcs lamination plate.
The shape of Adhesive Glue Punching and Lamination Plate could be customized following the drawing offered by the customer.
The online lamination of the machine is compliant to produce and accept:
- any kind of module tape, including M2/M3/M4/M5 and any kind of 6
pins or 8 pins module tape, and F-Cos modules.
- any kind of hot melt adhesive tape, including Scapa, Nitto, Telsa... etc.
Module Punching and Module Pre-heat

One set of pre-press and module punching tool are capable to produce ISO single SIM card, half card, and quarter card.
Whenever the user wants to switch production from half card to quarter card,
or switch from ISO single SIM to the half card, no need to change module punching tool.
The module pick and place platforms are X-axis and Y-axis movable.
This makes the machine able to finish the quarter card or half card embedding in one run. (in one pass).
THK lead screw, Mitsubishi servo motor and unique design of card centering system are installed on the machine, the accuracy of module implanting
The unique design idea of module pre-heating is applied to this machine. Pre-heating time for each card is less than 300ms with a high level of stability.
Pressing Groups

Six sets of hot press plus two sets of the cold press are installed. The machine is compliant with production with any kind of adhesive tape. It could be very flexible for configuration settings on hot pressers for the production model.
Module Height Measurement
Module height measurement is installed on machine, any card with faulty module height will be identified and rejected automatically.
ATR Testing
ATR testing function is installed to check if the card is mute after embedding.
Any mute card will be rejected automatically.
Card Output Magazines:

There are two stacking magazines installed on the machine for card stacking. It can be automatic switch when one magazine is full.
Price and payment
Credit card
Bank transfer
Characteristics of the Product
Type

Smartcard Machine

Model

JGCFT4000+

Dimension

2000mm*1800mm*100mm

Brand

JG

Certification

CE

Origin

China