G&G TECHNOLOGY Co. Ltd. / GeoSSum Hybrid
- Product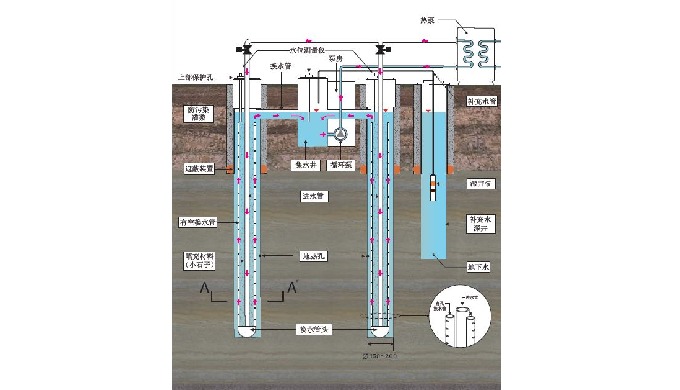 This product utilizes water overflow in several geothermal heat exchanger to collect groundwater into a single water tank, enabling geothermal cooling and heating using a single circulation pump.
* When returning from a heat pump to a geothermal heat exchanger, the ground layer, the coefficient of pitcher, and the quantity of groundwater are
Description of the Product
This product utilizes water overflow in several geothermal heat exchanger to collect groundwater into a single water tank, enabling geothermal cooling and heating using a single circulation pump.
* When returning from a heat pump to a geothermal heat exchanger, the ground layer, the coefficient of pitcher, and the quantity of groundwater are different, which increases the amount of injection in some plants, and the principle of collecting groundwater flow to the surface is applied to the collection tank, so it can be used for large-scale energy needs in building and smart farms etc.

# Technical Detail / Specifications
- This technology installs a collection tank that collects groundwater as circulation water, connects it to a heat pump by a horizontal pipe, and sends heat-switched circulating water from a heat pump to several geothermal well, and returns to the collection tank after exchanging heat with the ground due to water overflow of groundwater.
* 4 to 5 geothermal pipes per collection point are the basic connections
- The biggest difference from the existing open loop system is not to install the underwater motor pump in the geothermal heat exchanger, but to reverse the natural overflow of circulating water (ground water) exchanged in the geothermal well.
* Existing open loop (SCW) geothermal heat exchanger depth is approximately 500m, but this technology can freely change geothermal power depending on heat capacity.
- As the groundwater motor pump, which was previously installed in each geothermal system, does not need to be used for technical purposes, installation cost, operation power cost, and maintenance cost are reduced by more than 15% compared to the previous one.

Price of the Product
Price not indicated
Category of the Product