Fridge Freezer Thermometer with Digital Display Screen
- Product
Altrincham -
United Kingdom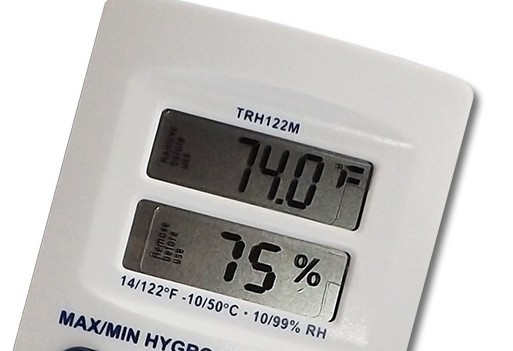 This is the first NSF certified digital fridge freezer thermometer. With its large LCD display, it's a simple and convenient way to monitor temperatures at a glance. Ideal in a busy kitchen environment. It has a high accuracy of ±0.5ºC, making it a reliable tool to maintain excellent food standards. The water-resistant frame is removable for easy c
Description of the Product
This is the first NSF certified digital fridge freezer thermometer. With its large LCD display, it's a simple and convenient way to monitor temperatures at a glance. Ideal in a busy kitchen environment. It has a high accuracy of ±0.5ºC, making it a reliable tool to maintain excellent food standards. The water-resistant frame is removable for easy cleaning, and contains antimicrobial additive to ward of bacteria.
How Does a Digital Fridge Freezer Thermometer Work?
Simply hang the thermometer inside your fridge freezer. Routinely check the displayed temperature in your preference of ºC or ºF. Alternatively, stand the thermometer on a fridge shelf or mount inside the cold storage cabinets using cable ties, which are included.
The fridge freezer thermometer updates at 60 second intervals to ensure the most up-to-date reading at any given time. When reading the temperature, be sure to reference food storage guidelines in order to maintain high standards.
To clean, wipe with a soft cloth or sponge – the unit is water resistant.
Using a Fridge Freezer Thermometer
A fridge thermometer is used to measure the ambient temperature within the refrigerator. Mainly to ensure food hygiene regulations are being met. Chilled food temperature must be kept within a specific range. This is to inhibit the growth of bacteria and prevent food poisoning.
When used as a freezer thermometer, this device again ensures that
health and safety
standards are met at all times. If freezer temperature readings are outside of recommended boundaries, this may be an indication that fridge freezer repairs are required. Or temperature settings need to be reviewed.
Price of the Product
Price not indicated
Technical Details
● Easier to read than bi-metal dial thermometers
● Accurate for Life guarantee, giving you have peace of mind there will be no need to send off for thermometer calibration
● Temperature range of -30° to 50°C
● Reading accuracy of ±0.5°C from -20° to 10°C
● °C/°F modes with a resolution of 0.1°
● CR 2032 button battery included
● Long battery life of 316 days
● Includes low battery indicator
● Weighs in at 1.5oz
● Minimum / maximum functions, with reset
● Splash resistant thermometer and frame
● Large display size of 48mm x 19mm
Digital Refrigerator /Fridge Freezer Thermometer NSF -22/122°F/°C / 2560, NSF, CE, RoHS, WEEE certified
For more information on Fridge Freezer thermometers please visit our
home page
.
Valdamark Direct
is primarly a consumables procurement website offering premium brand products across a range of integrated markets. We are United Kingdom business based centrally in Manchester.
Our offer is to present a large range of niche products that demonstrate the highest performance qualities in their classes.
Clients come from a diverse set of industries with most of our products having a global appeal.
Audion heat sealing tongs
and
impulse sealers
,
Hawo Heat Sealer
machines,
Corrosion X
rust inhibitor products and
Shockwatch
are all stock items available at unbeatable prices.
The full range of
audion heat sealers
is now available to buy online.
Category of the Product
I want to get more details about the product