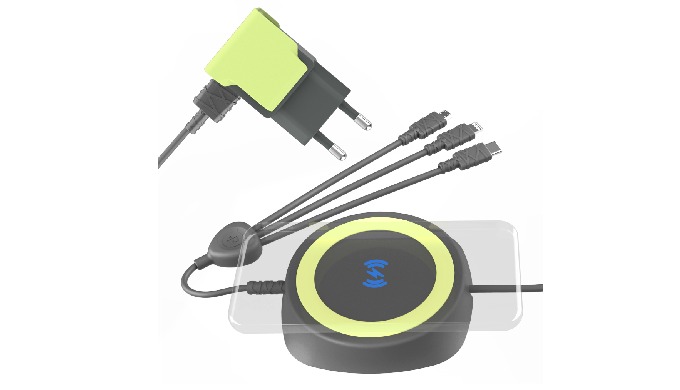 1. Charge Max. 4 mobile phones (or smart device) at the same time
2. 1 wireless charge +3 line charge (5pin, 8pin, C type)
3. Antitheft function from strong adhesive power on bottom sticker
4. All kind of mobile phone & smart device charge available
5. Non-skid ring to keep stable when put the phone on
6. Variety use fo...
Description of the Product
1. Charge Max. 4 mobile phones (or smart device) at the same time
2. 1 wireless charge +3 line charge (5pin, 8pin, C type)
3. Antitheft function from strong adhesive power on bottom sticker
4. All kind of mobile phone & smart device charge available
5. Non-skid ring to keep stable when put the phone on
6. Variety use for hotel, resort, cafe, office, home, pc rooms etc
7. CE & KC certificate approved
Price of the Product
Price not indicated
Technical Details
Model no: WTC-47
Input: 5V2.8A, 9V1.8A, 12V1.3A
Output: Wirelss: 5V2A/12V1.5A, Cable: 5V/2.4A
Pin type: Micro 5pin, 8pin, C-type
Output Type: Integral, Wireless
Material: PC/ABS & metal material
Origin: Made in Korea