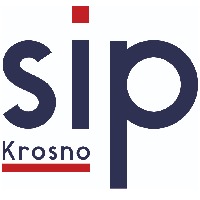 SIP Krosno Spółdzielnia Zakład Pracy Chronionej
We design, consult and manufacture of POS system and equipment store.
Contact - SIP Krosno Spółdzielnia Zakład Pracy Chronionej
ul. Czajkowskiego 82
38-400 Krosno
Poland
Send a message - SIP Krosno Spółdzielnia Zakład Pracy Chronionej
Legal information - SIP Krosno Spółdzielnia Zakład Pracy Chronionej
| | |
| --- | --- |
| Nature | Head Office |
| Year established | 1950 |
| Legal form | Spółdzielnia |
| Describe your Company and attract Business opportunities | |
| Corporate capital | 5,850,000 PLN |
| REGON | 000455367 |
| Registry of Commerce/KRS | KRS 0000073566 |
| VAT no | PL6840000933 |
| No employees | 240 Employees |
| Kompass ID? | PL012560 |
| Kompass member for | + 6 years |
| Membership | Booster International |
Presentation - SIP Krosno Spółdzielnia Zakład Pracy Chronionej
We specializiruetsya in the production of stands and racks marketing, As a company, advanced support technologies, we provide comprehensive services: from the moment of application, and via a serial connection, transport, and delivery of products to the specified place. We rely on qualified and passionate staff. We hire more than 200 employees, including: designers, constructors, operators, machines for printing, machines, quality inspectors and many other professionals. We are experts in processing machines. We have 46 different machines for processing metal and plastic materials that cater to complex products demands of our customers we offer the best solutions, we specify the best materials on the properties to maintain an optimal quality of the final product. Prepared technical documentation of the service management challenges, we also produce other stages in the processing of materials. Laser cutting we Guarantee a fast and accurate treatment of the metal. Cut any shape in accordance with individual customer requirement. The maximum size of the processed sheet: 1500 x 3000 mm. We have two machines: a laser cutter SG 510 MkII 2.5 kW laser cutter HG 510 MkII 4,0 kW Width thickness reinforced materials: structural steel: 20 mm; stainless steel up to 10 mm; aluminium up to 8 mm. Flexible wire Make a cut line from Ø3 to Ø10 3 surfaces, complex shapes on CNC machines industrial performance. The process is fully automated, the device can be programmed numerically, use the same amount of accuracy. Powder coating In our factory, connected by separate connections process (in the hall of 1600m2), who use the services of powder painting. Powder coating in one of the most accurate and at the same time the most durable methods of applying the dye on the metal elements. Paint parts with a size of 1200 x 800 x 2000 mm. Printing large format printing we carry out innovative and UV radiation. The prints cover size 2500 x 1250 mm we produce on plastic, glass, plywood, metal, OOP. In the case of ready-made graphics, we invite you for a trial print, which evaluate quality and to bring possible changes in consultation with our schedules. We also develop projects from scratch, we use the client's individual needs. Performed visualization and together with the client introduce any changes to the end result was most satisfactory from the point of view of visual and attic. Milling Complex logos in plastic or an interesting pattern on the plywood? We offer assistance at each stage of the task. We present the materials and their properties, on the basis of our implementation. Cooperation with us is a conscious decision - the best decision in accordance with the expectations and needs of Customers. The maximum size of the milling to 2750 mm 1500 Flexible tubes and profiles Complete accuracy in dimensions of the flexible pipes and profiles? My provide. Gniemy pipe from? 16 to? 40. Before posting production we do what we do series drive to obtain available size comparison and repeatability. Flexible sheet, we press the edges with CNC and modern machine. Gniemy sheet thickness up to 6 mm and the range of the length of the bend is 3050 mm. We carry out even the most complex bending, the parameters of our machines. Welding TIG, MIG structural steel and stainless steel. We have 9 posts equipped systems, welding tables, which move a series of small orders. For comparison, batch fabrication, we are making special devices to ensure accuracy and repeatability. Manufacturing POS systems and equipment stores: racks of exhibition and advertising stands - racks - prezentery - feeders - various articles of drutuów and sheet metal. Services: laser cutting, powder painting, bending wire, termoformowanie, large format printing, milling, CNC pipe bending and profile bending of sheet metal, welding
Company catalogues - SIP Krosno Spółdzielnia Zakład Pracy Chronionej

Interior Collection (English)
20 pages

katalog techniczny (English)
0 pages
Company's Videos - SIP Krosno Spółdzielnia Zakład Pracy Chronionej
General Information - SIP Krosno Spółdzielnia Zakład Pracy Chronionej
Import area
West. Europe, Worldwide
Export area
Central/East Europe, West. Europe, Worldwide
Contact people - SIP Krosno Spółdzielnia Zakład Pracy Chronionej
Download the executives list
Pan Grzegorz Szmyd
Chairman (President/Prezes)
Pan Mariusz Bogaczyk
Vice-President (Vice President/Vice Prezes d/s Technicznych)
Pan Jan Liana
Sales Director/Manager (Dział Sprzedaży)
Pani Iwona Rzepecka
Marketing Director/Manager (Dział Marketingu)
News - SIP Krosno Spółdzielnia Zakład Pracy Chronionej
Previous news
New product

stand on bananas

The summer is much more readily grabbed a fruit, in spite of this, you should ensure that their exposition is urged to purchase all year round. Our booth at bananas were made of metal and graphics from plastic imitującego the tree gives it an ecological nature. Moreover, wheels with brakes provide mobility, easy to change its position on the store premises.

New product

Hygiene Stations

Our hygiene stations are unique,multifunctional and can be fully adapted to the needs of customers. The basic version is equipped with : a feeder paper tray for gloves disposable towel holder, a paper tray on the mask basket cap, There is a possibility of changes in the product according to the Customer:dimensions, colors, equipment, customization of the basic version relizowane in 48 hours I Wonder how this works ? we invite you to watch the promotional film https://youtu.be/_QGwy7nfmYQ

New product

Hygiene Stations

Date: 13 July 2020 10:34

End: 30 September 2020 21:59

Hand hygiene in public places in recent times has become a priority.With the idea of a stations of hygiene. Was designed in such a way that all the actions you can perform, eliminates the transfer of bacteria to touch public places.The hygiene station may include a dispenser for liquid disinfectant, disposable gloves, holder or napkin holder on a paper towel, the paper tray on the mask and the trash bin sanitary standards. How does it work? welcome to obejrzejnia promotional film - https://www.youtube.com/watch?v=LgEyCu_HtfA - https://www.youtube.com/watch?v=Y8tDicyIidA

New product

stand for tiles

Date: 06 July 2020 22:00

End: 14 July 2020 21:59

That often makes the decision to purchase-this method of exposure to this product.With this in mind, we established our stand at the presentation of the shingles.Customers can carefully browse, provides a comprehensive demonstration of the installation of the entire roofing system with the use of: educational boards, leaflets, presentations, video and model sections of the roof structure.Swivel stand design allows you to comfortably watch the display and backlight of the product and the logo attracts the attention of a potential customer.

New product

stand for floor panels

Date: 30 June 2020 10:15

End: 07 July 2020 21:59

Summer is a great time for changes and repairs.Introducing the stand for the exhibition of floors, Durable metal construction allows zaprtezentowanie full range of panels without fear of damage.
More news
Location - SIP Krosno Spółdzielnia Zakład Pracy Chronionej
Opening hours - SIP Krosno Spółdzielnia Zakład Pracy Chronionej
Key figures - SIP Krosno Spółdzielnia Zakład Pracy Chronionej
Activities - SIP Krosno Spółdzielnia Zakład Pracy Chronionej
Producer
Distributor
Service provider
Main activities within the Kompass classification
Secondary activities within the Kompass classification