Contact - LOZOVA MACHINERY Ltd
Marshala Batytskoho St.4
Kharkiv 61038
Ukraine
Ask for Info - LOZOVA MACHINERY Ltd
Legal information - LOZOVA MACHINERY Ltd
| | |
| --- | --- |
| Nature | Secondary establishment : Registered Office |
| Year established | 1966 |
| Legal form | Ltd |
| Describe your Company and attract Business opportunities | |
| Corporate capital | 50,000 UAH |
| Registration no | 43412137 |
| No employees (address) | 50 Employees |
| No employees | 50 Employees |
| Kompass ID? | UA215015 |
| Kompass member for | + 7 years |
| Membership | Booster International |
Presentation - LOZOVA MACHINERY Ltd
LOZOVA MACHINERY is a wide range of modern energy-efficient and innovative tillage and seeding units.

The history of LOZOVA MACHINERY began in the late 90s of past century at Lozova Forging-Mechanical Plant (LKMZ).

Since 1999 LKMZ has launched serial production of the ZPG-24 and ZPG-15 spring tooth harrows, which became popular in Ukraine and the CIS in a short period of time, and they still have been holding leading positions among tooth harrows, but under a new brand name – LIRA.

The next breakthrough after a number of popular models of machines was the disc harrow (DUCAT), which was favored by Ukrainian and foreign farmers in a short period of time.

A real fact: disc harrows of LOZOVA MACHINERY brand are not inferior to the state-of-art foreign analogues and even surpass them in some parameters

Original design solutions realized in LOZOVA MACHINERY units provide their energy and costs efficiency.

One of the distinctive features of the company is a customer-oriented approach.

For example, for many farmers it is important that LOZOVA MACHINERY implements are adapted both to domestic and imported tractors, so they are suitable for small farms (with low power tractors of 80-180 hp), as well as for large agricultural enterprises, focused on large-scale tillage (with the most powerful tractors).

Present days

Today LOZOVA MACHINERY is significantly expanding the range of products: the line of disc harrows has been expanded (a full line from 2,5 to 16 m), the DINAR rotary harrow, the LIRA-XL heavy tooth harrow and the DUCAT-GOLD heavy disc harrow have been launched into serial production, and some other units are being tested.
Company catalogues - LOZOVA MACHINERY Ltd
Company's Videos - LOZOVA MACHINERY Ltd
General Information - LOZOVA MACHINERY Ltd
Export area
Central/East Europe, West. Europe, North America, Central Asia
Russian Federation, Netherlands, Italy, Sweden, Moldova, Belarus, France, Germany, Albania, Macedonia, Ireland, Bulgaria, Hungary, Poland, Croatia, Canada, United States, Czech Republic, Lithuania, Latvia, Estonia, Kazakhstan
Brands - LOZOVA MACHINERY Ltd
Hanna Datsenko
Director (Director)
Анна Александровна Даценко
Director (Директор)
Ганна Олександрівна Даценко
Director (Директор)
News - LOZOVA MACHINERY Ltd
Participate in an event
LOZOVA MACHINERY conquered Ukrainian fields: everything about demonstration shows
Date: 16 July 2021 13:13
End: 17 August 2021 13:13
The first half of the year, LOZOVA MACHINERY equipment spent in the field. The company demonstrated the strength and quality of its equipment to farmers. In order to best familiarize farmers with the advantages of technology, dealers organized a large demo tour throughout Ukraine.

The show was attended by 14 LOZOVA MACHINERY units, including DUCAT disc harrows, DINAR rotary harrows, LARI heavy tooth drag harrows, LIRA spring tooth harrows and a SPRAYMARC sprayer. The field route included 11 regions: Kiev, Dnepropetrovsk, Zhytomyr, Poltava, Kharkov, Kirovograd, Donetsk, Zaporozhye, Kherson, Lugansk.

DUCAT disc harrows are relevant not only in summer and autumn. They are also very effective for spring work. Disk harrows with working width of 2.5, 4 and 8 meters showed excellent seedbed preparation during the demonstration. In addition, the units work perfectly with any agricultural background, copying and repeating the field relief.

"The equipment is excellent! A loosened finely lumpy layer which is necessary for a productive work is created as a result of high-quality performance of operations, " noted Andrey Potapov (Poltava).

The farmers showed great interest in the work of the LARI heavy tooth drag harrows, which were presented in all working widths (7, 12, 15, 18 and 21 meters). Farmers especially highlighted that LARI allows to close the moisture and creates a perfectly level field for sowing, working the same time in all weather conditions.

"The harrow has perfectly leveled the wet field. No soil sticks to the teeth. I am very pleased with the work. We are waiting for a good harvest", - Alexander Matyushenko (Zaporozhye) described the work of the LARI heavy tooth drag harrow.

The demonstration of DINAR rotary harrows with working widths of 6 and 12 meters was equally successful. For example, the demonstration of a six-meter unit in the Zhytomyr region ended with the purchase and prompt commissioning. The equipment worked perfectly: precise inter-row cultivation of grain, tilled and vegetable crops, destruction of the soil crust, saturation of the soil with oxygen, combing out weeds at the stage of the white thread.

Zaporozhye farmers liked the ultra-precise trailed sprayer SPRAYMARC-3000. The Ukrainian market is familiar with it not so long ago, but farmers have already managed to fall in love with the unit. During the demonstration, the farmers were pleasantly surprised by sprayer's speed, maneuverability, stabilization and ease of use.

The classics of LOZOVA MACHINERY units - LIRA, LIRA XL, LIRA XS tooth harrows, have successfully conquered the eastern and western regions due to their multifunctionality, unpretentiousness and ease of use. The units did an excellent job on uneven fields with slopes which are typical for the area.

"Great job! It is exactly what we need for the destruction of the surface crust! And ir combs out the weed", - Yuriy Zagoruiko (Mykolaiv region) shared his impressions about the LIRA tooth harrow.

LOZOVA MACHINERY is not a newcomer to the market. The company knows how it is important to have trust of partners and consumers. The company will continue to conduct demo tours together with dealers and demonstrate the best solutions for energy-efficient tillage.
Follow our news.
Participate in an event
LOZOVA MACHINERY in the UK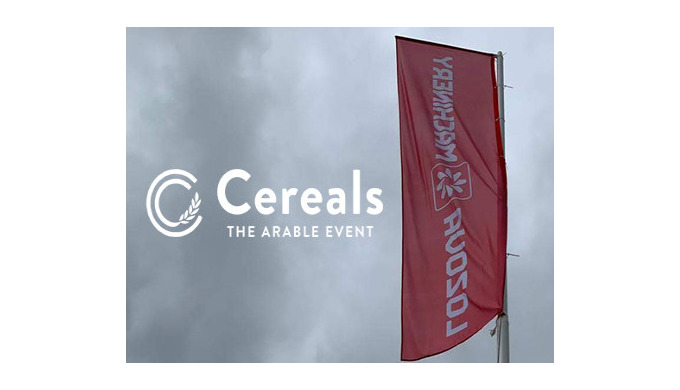 Date: 16 July 2021 10:30
End: 21 December 2021 11:30
From June 30 to July 1, LOZOVA MACHINERY demonstrated their production units on the fields of Lincolnshire, the Cereals exhibition (one of the most important events of tillage machines and equipment in the UK).

Participation in Cereals for LOZOVA MACHINERY has become a tradition. Here, along with the best world examples of tillage equipment, English farmers get acquainted with Ukrainian technology.

This year, the company showed a short disc harrow DUCAT, a rotary harrow DINAR and a loose cultivator SANTIM. It is these units that are now most relevant for the UK market.

In addition to exhibitions and field days, LOZOVA MACHINERY is well known to local farmers that for more than three years they have been using the technique of the Ukrainian brand, are familiar with the quality of tillage and the convenience of aggregates.

Especially farmers are attracted by the excellent productivity of tools and their comfort in application - the branded principle of "ZERO SERVICE" is profitably distinguished among many tillage units.

This year LOZOVA MACHINERY was represented by LANDQUIP partner and distributor, a well-known sprayer manufacturer.

In 2020-21, sales of LOZOVA MACHINERY equipment to the UK doubled (compared to the same period last year). The company continues to expand the portfolio of orders and increase the network of distributors.
Location - LOZOVA MACHINERY Ltd
Opening hours - LOZOVA MACHINERY Ltd
Activities - LOZOVA MACHINERY Ltd
Producer
Distributor
Service provider
Main activities within the Kompass classification
Secondary activities within the Kompass classification